Download Software
About Guarantee Trust Life Ins Co
Founded in 1936, Guarantee Trust Life Insurance Company is a legal mutual reserve company located in Glenview, Illinois, which provides a portfolio of competitive health, accident, life and special risk insurance programs. For over 75 years, the company has benefited from the direction of the Holson family whose consistent top-level leadership and management continue to provide GTL with a clear vision of who they are and where they are going.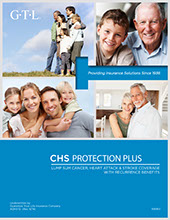 Designed to supplement your current health insurance plan and fill some of the co-payments, deductibles or coverage gaps should you need care.
Designed to fill the gaps in traditional health plans to provide you with more complete protection against the costs of living with cancer or suffering a heart attack or stroke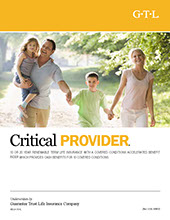 Critical Provider is a term life insurance policy with an accelerated benefit rider that pays a lump sum benefit directly to you upon diagnosis of a critical illness or condition.
Recover Cash can help during those critical times when you need to focus on your well being and not worry about how much your care is costing you.
ENROLLMENT
fax: 847.699.8493
Attn: New Business include void check
UNDERWRITING phone:
800.635.1993 email:
und@gtlic.com
Mail:
Guarantee Trust Life Insurance Company
1275 Milwaukee Avenue
Glenview, IL 60025
include one month's premium & a transmittal form
Agent Commission
commissions@gtlic.com
Supplies
email: agency@gtlic.com
HOME OFFICE
Guarantee Trust Life Insurance Company
1275 Milwaukee Avenue
Glenview, IL 60025
800.323.6907
IF YOU LIKE WHAT YOU SEE, JOIN US!
The easiest way to change your past is to start a new future.
Get Contracted
We provide resources and education to help turn insurance agents into profitable Insurance Advisor.
16W241 S Frontage Rd
Suite 33
Burr Ridge, IL 60527
info@myfieldtrainer.com